RED LIGHT DISTRICT OR RESIDENCE OF THE RICH?
Going out on a short walk around the block from my flat in Wan Chai, the diversity, both culturally and economically, of this famous area of Hong Kong becomes clear.
Wan Chai is quite a large area and its size has kept increasing over time as more and more land has been reclaimed. The neighbourhood became famous in the 1960 film, The World of Suzie Wong. The red-light district, made legendary in the film, is now mixed with regular shops, restaurants, and bars.
The 1957 novel written by Richard Mason, was made into a film in 1960 and became the icon of what people imagine when they think about Hong Kong and in particular, Wan Chai. The bar girls still exist but most of what you will see in Wan Chai is an eclectic mixture of shops, flats, and businesses.
Keeping within just a block of my flat on Tai Wong Street East, I discovered many of the things that make Wan Chai one of the most interesting places in Hong Kong.
The bird store across the street from my residence keeps their birds outside on the sidewalk and their calls and chirps can be heard all day long.
Walking around the block I discover, the Hung Shing Temple.
It was built on rocks along the shoreline of Hong Kong's harbour but with the progressing reclamation of land is now more than a kilometer from the shore line.
Hung Shing Temple 
Built in 1847 on a large boulder on what was then on the beach, this tiny temple is dedicated to the God of the Southern Sea (Hung Shing AKA Tai Wong). This popular God is said to appear to sailors and save them when they are having difficulties at sea.
Wan Chai 
Wan Chai is one of the 18 districts of Hong Kong and is a main business, transportation, and government hub. Wan Chai means "small bay" and over 150 years ago it was a sandy bay with a few fishermen clustered around the Hung Shing Temple. With land reclamation, it has increased in size to 1 000 hectares and has a population (2016) of 180 000 with an additional 600 000 coming into Wan Chai for work and leisure every day.​
Shops selling toilets and hardware, along with pawnshops, and gambling at the Jockey Club intermingle with the high-end shops of Lee Tung Avenue and the public rooftop garden of the exclusive expensive apartments.
Hong Kong Jockey Club (HKJC) 
The Hong Kong Jockey Club was established in 1884 and has a legal monopoly over horse race and football betting. With two racecourses, over 100 off site branches, and Wi-Fi betting services, the HKJC is the largest taxpayer in Hong Kong.
Pawnshops 
Pawnshops are still a thriving business in Hong Kong. They act mostly as money lenders with 30% of their business coming from domestic helpers. They all look the same with a common distinctive symbol, very high counters, and a screen blocking views inside. Only about 10% of their items go unredeemed.
Lee Tung Avenue 
Formally a publishing hub and the heart of the wedding card printing business, Lee Tung has undergone a difficult urban renewal with many protestors believing that an important part of Hong Kong heritage had been demolished with small family businesses and affordable housing being replaced with expensive housing and shops with high rents. The old businesses and buildings have gone and replaced with an outdoor shopping area with trendy restaurants and stores and a fifth-floor grassy park.
Three feet by six feet coffin homes are nearby and some people walk around carrying all their belongings. McLaren and Bentley car dealerships are woven in with groups of domestic helpers meeting together on a Sunday near the local market.
Domestic Workers 
The 380 000 domestic workers (AKA helpers) in Hong Kong mostly come from the Philippines and Indonesia. Working 24/7 except for Sunday, their only day off, they gather with other helpers to enjoy the only time to be themselves.
The Economic Diversity 
Hong Kong is the most expensive housing market in the world in 2017, according to the Demographic International Housing Affordability Survey. This compels many to live in divided flats (one flat divided into two or more flats), Nano flats (smaller than a parking spot), and coffin homes (three sleeping areas stacked on top of each other) while others can afford to live in places such as a townhouse in Repulse Bay that is selling for US$21 000 per square foot. In Wan Chai, the rent for a 100-square foot divided flat, rents for about US$1000 per month and up, while a small 3-bedroom unfurnished flat averages about US$10 000 per month.
Walking back west on Johnston Road I end up back at the junction of Tai Wong Street East, where old and modern meet. The colonial building, The Pawn, is surrounded with the new high rises of Wan Chai.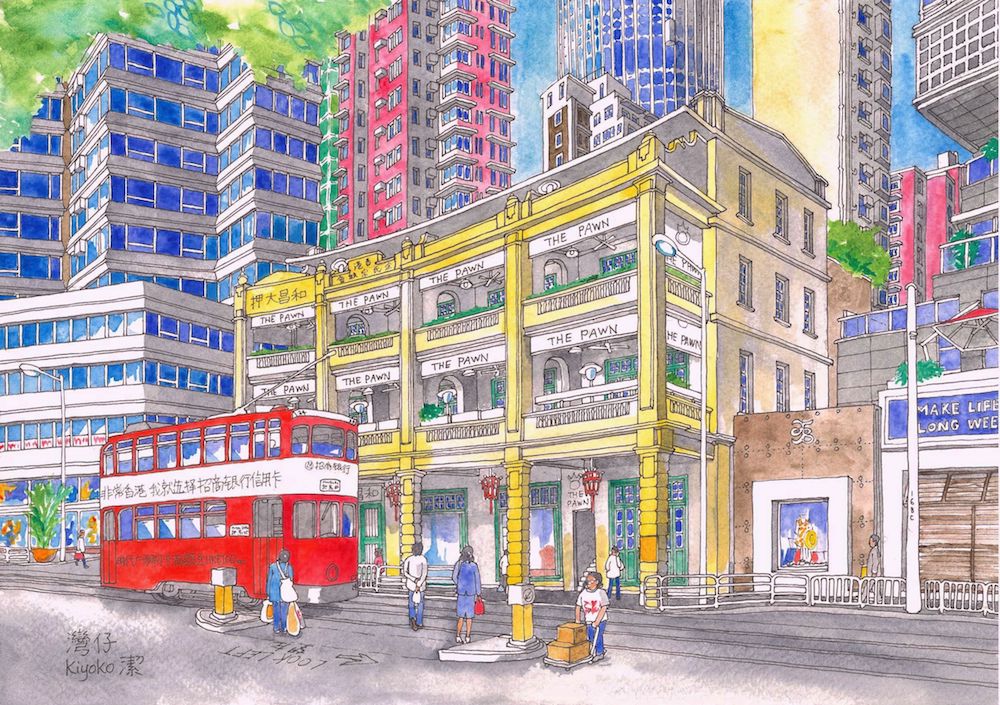 The Pawn 
This 19th century heritage building was a famous pawnshop in colonial times. Sitting among modern high-rises, it has been beautifully restored and currently houses a restaurant and bar called "The Pawn". 
In one short walk around the block in Wan Chai, the culture, history, and economic diversity of Hong Kong can be discovered.
Map – Walk Around the Block