At the top of Kilimanjaro
ONE YEAR LATER – One year since Covid lockdown
ONE YEAR LATER and so much has changed in the world, but the lessons that I learned climbing Kilimanjaro have helped me survive the pandemic of 2020. First, 'Pole Pole' will get you there in the end and second, sometimes it is better not to know what is ahead before you do something.
Each step was slow. I kept taking smaller and smaller steps and going slower and slower, but I eventually made it to the very top of Kilimanjaro! Our guides reminding us that the way to the top was to go 'Pole Pole'.
'Pole Pole' means slowly, slowly in Swahili (rhymes with guacamole) and the higher we climbed, they no longer had to remind me to go 'Pole Pole'. I just automatically slowed down.
When people politely asked what my husband Ian and I were doing for Christmas 2019, many responded to my answer, "climbing Kilimanjaro", with puzzlement in their voices with the question, "why"? I do like walking on flat smooth surfaces, but I am not athletic and do not play sports. I do not like clamouring over rocks, walking over loose shale and stones, bad weather, heights, and mud. I am short with mediocre balance, and weak upper body strength, so large steps up, down, or over something are difficult for me. Also, I had experienced altitude sickness before, so I was aware that this was going to add to the challenge. We live in Manchester, England, where the altitude is 38m (125 ft) and Kilimanjaro is 5895m (19 340 ft) at Uhuru Peak at the top. (The Shard in London is only 309.6m – tallest building in UK and Europe) What was I thinking?
Fourteen years earlier, I had experienced a large personal loss and decided that I needed to do something that would help me to keep focus. I made the decision to go outside my comfort zone and climb the three most famous non-technical mountains, Mount Fuji (3776 m/12 389 ft) in Japan, Kota Kinabalu (4095 m/13 435 ft) in Borneo, Malaysia, and the highest, Kilimanjaro (5895 m/19 340 ft)  in Tanzania. Having completed Fuji and Kinabalu over the first few years after making this decision, and experiencing bad altitude sickness at Kinabalu, I kept putting off the final one in my tri-mountain challenge. Ian and I realised that we now had the time and opportunity to do it, and I made the decision that it was now or never, as I was not getting any younger. 
There is more to climbing a mountain than booking some air tickets and showing up, so after you decide to do it, then the next stage is the research. Kilimanjaro is part of Kilimanjaro National Park and climbing Kili, as most people call it, requires certified guides, porters, and permits. Searching through the numerous companies that provide the service along with the various routes and deciding on the number of trekking days became a difficult challenge in itself. We finally decided on Team Kilimanjaro based on their reviews, summit success rate, and their own crowd avoiding 8 day TK Lemosho Route, that also included the trek high sleep low philosophy .  Next comes the 4-page equipment list with details about required clothes, boots, health items, etc. along with a recommended additional two day stay at the bottom to start altitude acclimatization. Taking the time to adjust to altitude seems to be the key to success along with 'Pole Pole'. Many shopping trips, a visit to the doctor to obtain altitude sickness pills, Diamox (Acetazolamide), in an attempt to help with symptoms, an inconsistent stab at getting fit, acquiring a Tanzanian visa, purchasing high altitude travel insurance, and taking lots of American dollars, completed the preparations. I had avoided the statistics on the number of deaths as I thought that I did not really need to know them! Not that reading them would have made any difference. I figure everything has a risk factor.
All packed with our mountain trekking clothes and equipment, we left Manchester excited and ready to go. Our flight was late leaving so we missed our connecting flight in Doha but at least we were treated to a night in Doha by Qatar Airlines and put on the flight to Kilimanjaro Airport the next morning. Now spending only one night at the pre-climb accommodation (The Outpost Lodge), we were greeted by our head guide, Ally Swalehe, from Team Kilimanjaro. 
He checked our kit and gave us the things that we had decided to rent (sleeping bag, summit jacket, etc.) in order for us to have it packed ready for the early morning start, but by the look on his face we could tell that he was surprised at our age and our obvious inexperience. He was probably wondering, if we had what it would take, to make it to the top.
With our two guides, Ally and Harold, along with a bus load of support staff we were on our way for more than a 2-hour drive to Londorossi Gate where we registered for the climb and watched the process of everything that the porters carry, being searched and weighed. The maximum weight allowed per porter is 20 kg and single use plastic bags and bottled water are banned. Water is obtained along the way from streams and rivers and treated by the crew. Each climber is told to carry 3-4 litres ( 3-4 kg) of water per day in a hydration bladder in their day pack which is refilled daily by the treated water. The porters carry everything – tents, sleeping bags, table and chairs for dining, toilet, food, and anything else.
We ate lunch and people-watched. Everyone that is starting the trek that day comes there to register and it was interesting to see the variety of climbers – families with teenage children, a group of women with their false eyelashes ready for the climb, noisy groups of mid-20 year olds – it became clear that I was the oldest one there.
Next we were taken by bus to the starting point. Heavy rains the night before had made it impossible for the bus to go all the way, so we had to add a couple of extra km to our climb. The trail was muddy, but the temperature was still warm, and I was able to wear shorts as we were in the Rain Forest Climate Zone.
Kili covers 5 climate zones (Bushland, Rain Forest, Heath/Moorland, Alpine Desert, Arctic) so there is a huge diversity in vegetation and temperatures as you continue the trek. Layers of clothes were yet to come.
As I am a very slow climber, we had decided to do a private climb with just the two of us. It felt embarrassing to have such a large team. Our group consisted of Ian and me, our two guides, and an additional 14 support staff, making a total group of 18 altogether.
The Basics – Eating, sleeping, clothes, and toilets
Climbing Kili was not going to be a luxury vacation. We were aware that there are no hotels, no flush toilets, and no restaurants, and I psyched myself up to the 8 days of basic living.
We had our own private dining tent with a folding table and two chairs. Our very creative cook, Joseph, managed to whip up great meals on a little camp burner.
Up at 6 am every day, greeted with coffee and tea while we packed our things for the porters (clothes, sleeping bags, etc),brushed our teeth, washed our faces with the bucket of hot water, and then breakfast. Breakfast usually included eggs, fruit, jam, and peanut butter, along with some type of homemade bread like roti.
Along the way we drank lots of water, ate some energy bars that we had brought along, and most days we stopped for a hot lunch they gave us in our dining tent that they set up for us.
Dinner and lunch always included a tasty vegetarian soup, a main course (for example, pasta, chicken, fish, hamburger) along with vegetables and fresh fruit, including my favourite – mangoes. Dinner was by candlelight, as there were no lamps or electricity, but it did make it a bit romantic.
Christmas Day occurred on Day 3 of the climb, and that night we were treated to a decorated cake made by Joseph on the little cooker, along with a bottle of non-alcoholic bubbly, then the team sang to us to celebrate Christmas on Kili.
One of the symptoms of altitude sickness is loss of appetite and in spite of expending a lot of energy along the way, there were times when I did not feel like eating but pushed myself. Many people also suffer from bad headaches, but I managed to escape that problem. 
Our sleeping accommodation was a tent with a little entrance area to keep our muddy boots. Tents were low and it was lying down room only, making changing clothes difficult and putting boots on a rather difficult task. We slept on the ground in sleeping bags with mats underneath. With no electricity or lamps, our head torches were a essential, as it was dark when we went to bed and again when we got up. No electricity meant no charging for phones and cameras.
As it was getting cooler, the thermal underwear became a necessity and were worn non-stop (day and night) until day 8. We always carried our waterproof jackets and trousers, wearing it most days as it was frequently rainy. Higher we climbed, the more layers we needed for both trekking and sleeping, usually just taking off the waterproofs and boots when we slept.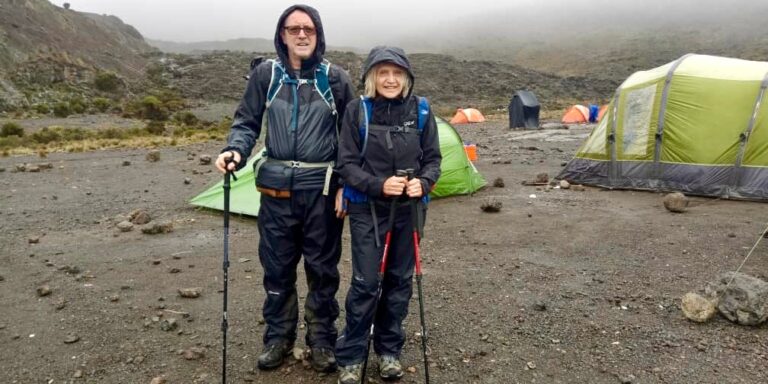 Toilets along the way were the closest bush, but at camp we had a little 'toilet tent' with a box inside, which allowed for sitting. It felt like luxury and I could even stand up inside, which helped with my attempts at personal hygiene. We were glad for the sanitary wipes that we had brought. We still were managing to floss and brush our teeth every morning….our dentist would be proud!
I had planned on taking a lot of photos, doing a video blog and writing some notes, but the exertion required for me to keep going took its toll, and I gave up doing anything other than keep going to the top.  Our guide, Ally, was taking photos, as well as posting on the Team Kilimanjaro blog so I would be able to access this later. 
The porters, on the other hand, walked quickly up the trail, carrying all of the equipment on their backs and heads, not appearing to struggle at all.
We were doing an itinerary that avoided classic tourist routes, and we could walk all day without seeing anyone else or just a few others. Only one or two kilometres seemed to take an eternity and I found myself doing things that I would never have thought I would ever do – crossing fast moving streams over slippery rocks, climbing up rock faces, side stepping along high narrow ledges. If I had known this would have been part of the climb, I would never have signed up in the first place – sometimes it is better not to know what is ahead before you do something.
Completing these challenges, just added to my determination to finish the climb to the top. I just had to keep going. Each day and each movement  were getting more difficult to do and as the effect of the altitude started to affect me, I knew that there was no going back. Putting in this much effort and doing so many things that I would have felt were impossible for me to do, just added to my determination.
Each day was a mindless drill of putting one foot in front of the other and I found myself in a state of what I think is meditation. My mind was blank. No outside influences, no thinking! An endless walk, interrupted only with eating and sleeping.
Our guides, Ally and Harold, assisted me along the way – aiding me up big steps, helping with balance, alleviating my fears – holding my hand when the challenge required it. Ian just quietly walked behind me.
A shorter hike (4.9km) on Day 6 ended at School Hut Camp. The plan was to rest as much as possible to be ready for the summit climb the next day.
Summit Day – to the top – Day 7
Lunch followed by sleeping followed by dinner followed by sleeping, was necessary as we were woken up at about half an hour before midnight, to get ready for the climb to the summit. An attempt was made at eating breakfast at that early hour. This was going to be the most difficult day, as we were going to climb into the highest altitude we have ever been and go the longest distance of the trip.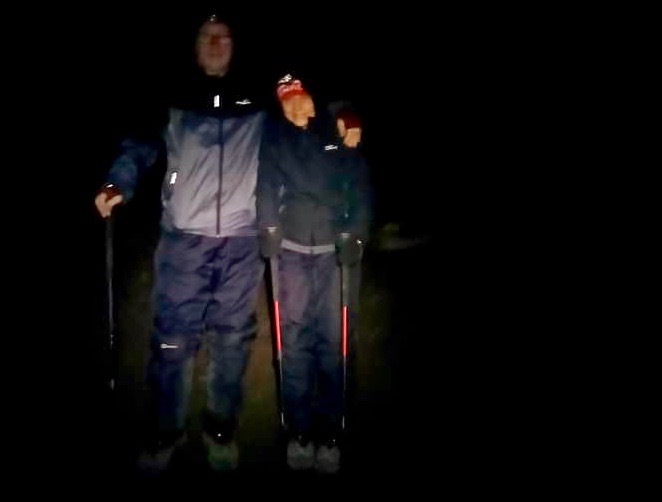 Ally checked that my boots were well tied. He had decided that we (especially me), would need some extra help to summit, so Joseph (the cook) came along as well, to carry my pack, now filled with 4 kilograms of water (almost 9 pounds) and the extra warm clothes needed. We had three guides for today, instead of our usual two, and we were now ready to go.
We put on our headlamps and started off in the dark on the trek to the summit at around 12:30 am.
I was nervous, as I was feeling the difficulty of being at such a high altitude, and I also knew that we were going up into a higher altitude for the longest walk of the entire climb. I was determined to do it, no matter how long it would take me. I was probably the slowest person going up to the summit that day, but 'Pole Pole' had worked so far and I also knew the story of the hare and the tortoise, and I was going to be the tortoise.
All the cold weather gear was ready: the baklavas, the down mittens, the toques, the summit jacket, the gaiters, and many layers of clothes, as today was not only the summit but the entrance into the Artic Zone. We put 100+ sunscreen on our faces.
The trek started off by climbing endlessly up rocks via Hans Meyer Cave. Being in the dark, made it even more exciting, although we were wearing headlamps. Ally led the way and I could see he was using a Sat-Nav to assist finding the route in the dark. I was hoping he knew where he was going!
Mist, turned into drizzle, turned into snow. Just as I started to think that this would never end, we made it over a ridge into Gilman's point (5708m/18 727 ft)) – the first of the three summit points but it was still not the top.
By now the sun was up. A snowy icy path led upwards to Stella Point, but still not at the top yet. Another endless icy path continued to the top. I was finding it more and more difficult to breath and each step took all of my concentration and will power. We were passed by others that seemed to be going so much faster than me. Harold took my hand and guided me up the mountain.
Almost 12 hours from leaving School Hut Camp, we finally made it to the top – Uhuru Peak (5895m/19 340 ft), the highest peak in Africa. I hugged the signpost.
After photo taking, a short break, and consumption of some energy bars, we started the descent. My knees were wobbly, I felt exhausted, and I was having trouble breathing.
Harold stayed with Ian, and Ally and Joseph decided to assist me to get down faster to reach an altitude that would help with my breathing.
We returned to Stella Point and then descended down the loose scree with one guide on each side of me helping to scree ski down the slope. As if I hadn't had enough excitement for the day!
We continued down to High Camp arriving about 6 pm. I was exhausted. We had climbed the summit and come down to the camp in about 18 hours for a total of 16.2 km on this one day, but we had made it to the very top of Kilimanjaro!
My breathing was much better, but we were too tired to eat. We just fell asleep. This was our last night on KILI.
The weather was warmer, and I finally was able to peel off the thermal underwear. It was now so much easier to breathe. The next day we continued down for the remainder of the day and my knees were starting to scream with the constant stepping down, but I kept reminding myself that the whole climb was almost complete, and I had already done the hardest part.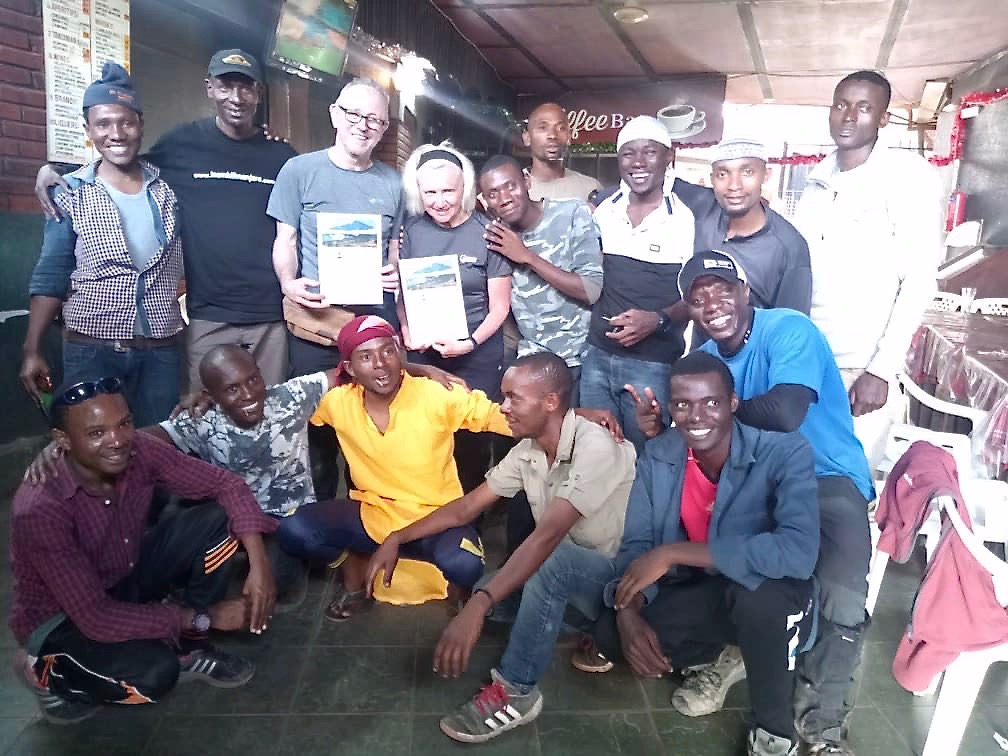 We finally arrived at Mweka Gate where we signed the summit register and I observed that I was the oldest person to have climbed the summit the day that I did it. That made me excited but it was nothing like this woman, Anne Lorimor, that at 89 became the oldest person to summit Kilimanjaro. 
Sore muscles and a very bad sunburn on my lips were the only injuries of the climb.
A long bus ride to Moshi to have lunch with the crew and to receive our certificates for climbing Kili. Another long drive to Arusha, where we arrived at our hotel for the next 4 days, Onsea House, where we had a very long hot shower and I had a bottle of wine.
I had completed my tri-mountain challenge to myself. I had done so many things, such as crossing rivers on stones, climbing rock walls, and edging along ledges, that had taken me way out of my comfort zone. I had endured and pushed myself through the altitude sickness. I had kept going long past what I thought that I would be able to tolerate. I had done it! It was not just the physical endurance, but what may be even more difficult, it was my mental stamina and tenacity, that I may be the proudest of.
I do not think that everyone ought to try to climb Kilimanjaro, but maybe we all should, sometimes, try something different and challenge ourselves, and we may be surprised at what we can do. The words 'Pole Pole' will always be in my head, reminding me that doing things slowly sometimes may be the best way to do things.
Scroll to see more photos from the climb
Day 1 Londorossi Gate to register, Lemosho Starting Gate (2424m ) to Forest Camp. 5.4 km
Day 2 Forest Camp to Shira 1 Camp (3508m). (7.7 km)
Day 3 Shira 1 Camp, to Moira Hut Camp was a long hike uphill for 9.4 km to 4166m. 9.4 km
Day 4  Today's trek was from Moira Hut via the Northern Summit Circuit to Pofu Camp (3998m). 10.3 km
Day 5 The trek started with a steep climb up a rock wall from Pofu Camp to Third Caves Camp (3971m) for a total of 6.7 km.
Day 6 From Third Caves Camp, we trekked up to School Hut Camp (4722m) for a distance of 4.9 km.
Day 7 Summit Day. School Hut Camp to Gilman's point (5708m) to Stella Point to the summit. Almost 12 hours from leaving School Hut Camp, we finally made it to the top – Uhuru Peak (5895m), the highest peak in Africa. Down to High Camp 18 hours for a total of 16.2 km
Day 8  High Camp to the end –  Mweka Gate